Directory Category:
Hardware
Hardware
Hardware, tools, appliances, and home goods.
We are your local hardware store and we are a part of your community. Over 4,924 of Ace's 5,024 stores around the globe are independently owned and operated by local entrepreneurs. These hard working men and women are part of the fabric of your community. They are small business owners who are local and loyal...just like it ought to be. While others have become large and impersonal, at Ace, we've remained small and very personal. That's why we say a visit to Ace, is like a visit to your neighbor.
500 Water St.
Cordova, AK 99574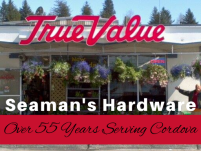 Seaman's Hardware has been independently owned and serving Cordova for over 55 years. We are renowned for our unsurpassed knowledge of our products and the people in our community. In addition to being known for having the best prices, we offer the friendliest, top-notch service in town. Not only does Seaman's Hardware have what you need in a Hardware Store, but it's also the home of Seawoman's Gifts. Seawoman's hand-selects jewelry, home decor, housewares, gifts & more, all classy and elegantly tailored to the unique taste of the Cordova community.
Facebook: https://www.facebook.com/seamanstruevalue
Instagram: https://www.instagram.com/seawomans_gifts