Directory Category:
Telecommunications
Telecommunications

4G LTE network offering customers fantastic cellular coverage in the region; providing quality technical support, reasonably priced calling plans, top-quality wireless phones, data cards, routers and accessories.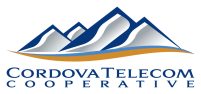 Cordova Telecom Cooperative is committed to the provision, improvement and expansion of quality, competitively priced communication services in Cordova and the surrounding service area.
3G 4G LTE regional wireless coverage with nationwide service and world-class customer assistance from a locally-owned wireless company.