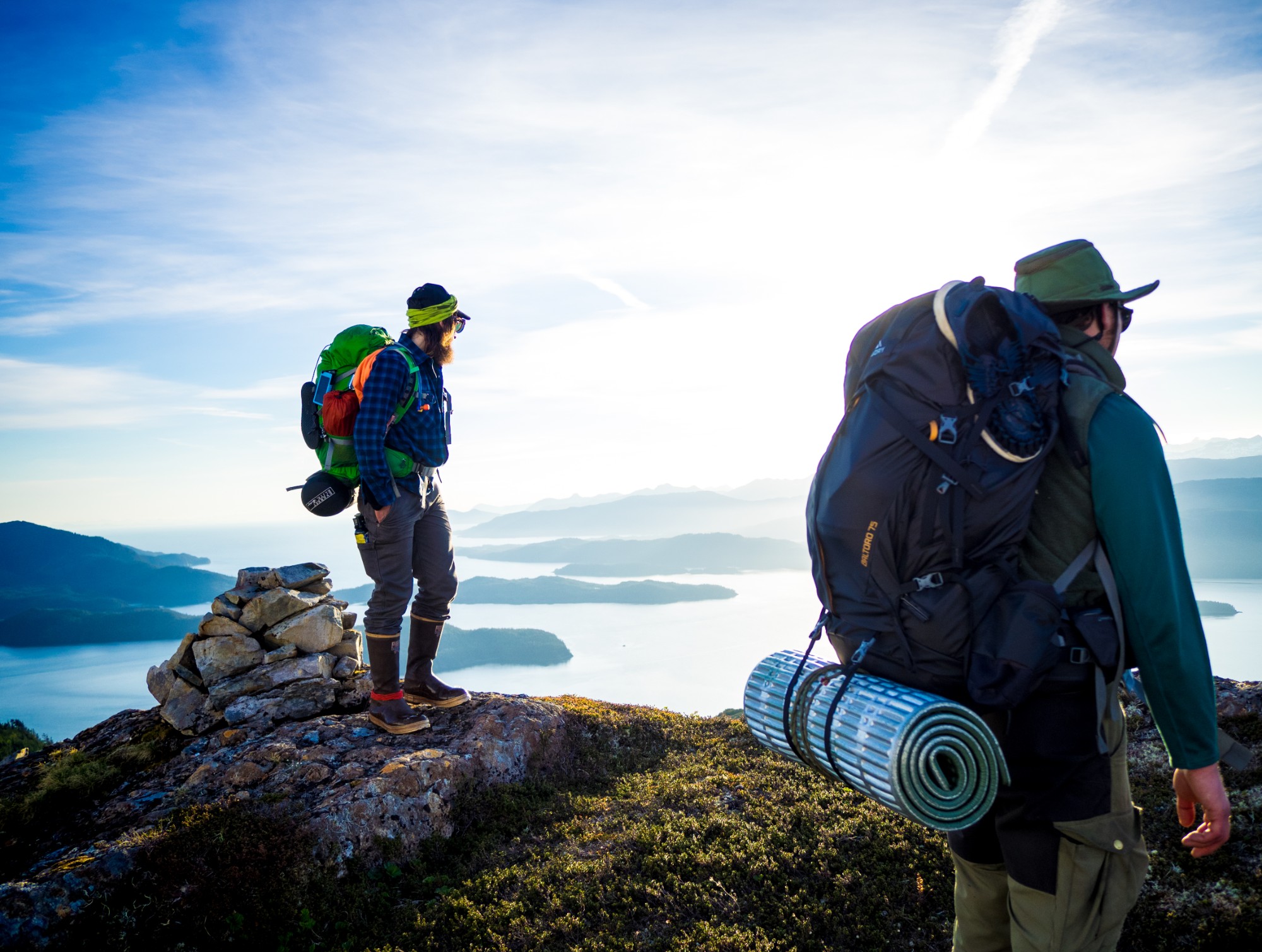 The pristine wilderness and friendly community of Cordova offers visitors the rare opportunity to step back in time into the solitude of tranquil bays surrounded by deep forests, sweeping glaciers and majestic mountain peaks.
Orca whales, Steller sea lions, harbor seals, brown and black bears
and a diverse array of birds all inhabit the area.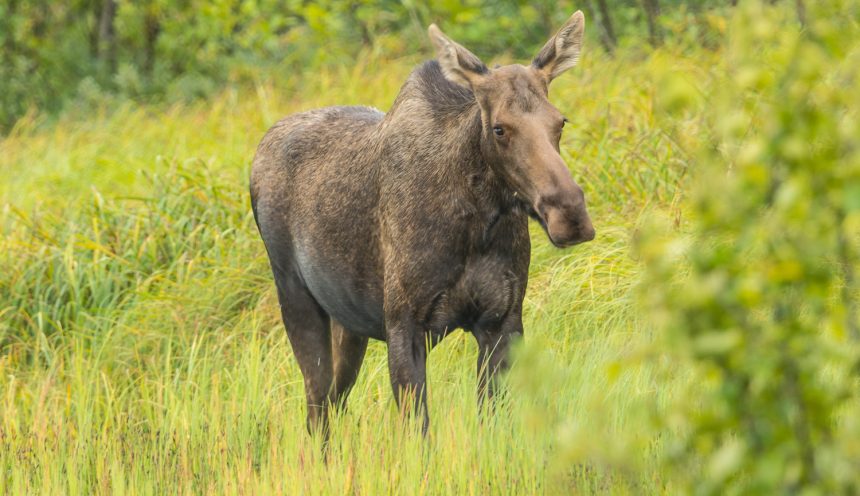 Whatever time of year you find yourself in Cordova, there will be amazing opportunities for viewing wildlife. A trip on the ferry or sightseeing boat trip into the sound may give you views of orca whales, sea otters, porpoises, harbor seals, sea lions, eagles and a diverse array of birds. The month of May brings millions of shorebirds to Cordova, and the community celebrates with the Copper River Delta Shorebird Festival.
The summer season from May to October finds the Copper River Delta and Prince William Sound teeming with salmon, moose, brown and black bears and other wildlife. Take a tip from a knowledgeable local: late summer evenings are a great time to hunker down with a pair of binoculars and look for moose grazing the delicate tips of willow and alder.
As the season turns to fall, a sure sign is the call of migrating Sandhill cranes high above. Soon the region is blanketed in snow and the footprints of coyotes and moose, and the woosh of birds on wing remind adventurers just how vibrant the season is.
Whatever you're looking for, be sure to bring your camera because the views are spectacular and these are memories you will want to capture.
A Feast for Foraging
Coastal Alaskans like to say, "When the tide is out, the table is set." This reflects the bounty of the seas and shores and the traditional way of life practiced by local residents. You too can join in this feast, and in doing so, experience the magic of this pristine world. Find wild salmon fishing in one of our streams or in a local restaurant and keep your eyes peeled for opportunities to enjoy fresh halibut, spot shrimp and other delicacies.
When hiking, look for season edibles such as spruce tips, fireweed shoots and fiddlehead fronds. Summer brings salmonberries, blueberries and more along roadsides and hiking trails. Fall is mushroom season and the Chugach National Forest is home to many fascinating kinds of fungus, both edible and inedible (make sure you consult an expert before eating any mushroom). Cordova's annual Fungus Festival (link) in early September offers mushroomy workshops, classes, cooking and guided forest forays.
Locals are always happy to share tips on what to look for at that time of year and the US Forest Service is a friendly resource for maps, up to date fishing tips, what's blooming and all kinds of information on where to go and what to see. Additionally, you can find a wide selection of books, maps and other guides in our local shops – and often the friendly shopkeeper can be a knowledgeable resource with their own special list of favorite things to do.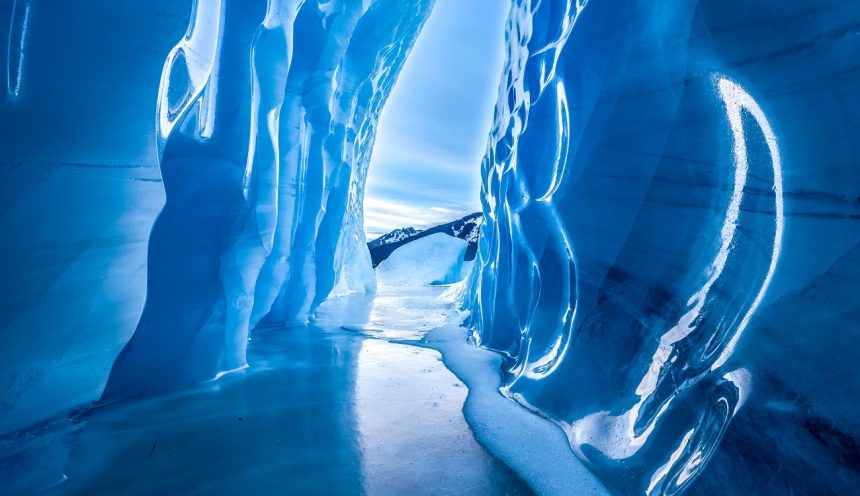 Glacier Viewing
Many people come to Alaska to see glaciers.  From the airplane window you see them dot the landscape below.  They dazzle, they amaze, they capture your attention. Spend just one day at a calving glacier and you will find it nearly impossible to tear yourself away.  
If a hike is your thing then check out the 3.1 (5 km) hike to Saddlebag Lake where Saddlebag Glacier resides at the far end of the lake. If a hike isn't on your schedule for the day, head to Sheridan Glacier via a short 10 minute walk just past the Sheridan Mountain trailhead.  Pick a great picnic spot in the wild flowers or right up and personal with the glacier. A sunny day at Sheridan or Saddlebag Glaciers provides a stunning backdrop for a picnic to remember.
While the Copper River Highway is impassible beyond bridge 339 near 36 mile, packing the car with kids, food and gear may be out of the question for now but you can still spend the day with Childs Glacier.  Local outfitters offer guided trips to get you there for a fee. Whichever route you take to spend a day at the glacier, walk, hike, atv or boat you will have a unforgettable day. Check our Business Directory for outfitter listings.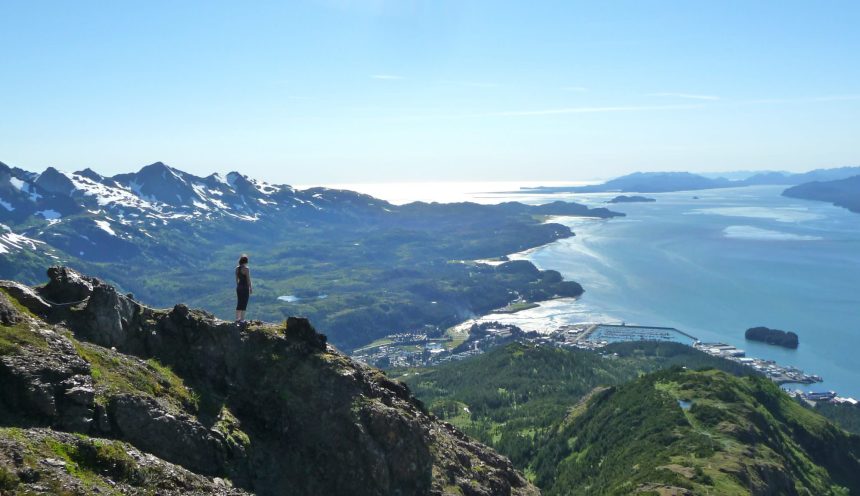 Ready, Set, Hike!
Much of the land around Prince William Sound is part of the Chugach National Forest. Known as the United State's northernmost national forest it is home to wonderful recreational opportunities: hiking, camping and exploring – with exceptionally well maintained trails suitable to all ages and abilities. The folks at the United States Forest Service can help you with maps, guides, wildlife information – and helpful tips on what trails to choose. Many trails offer tent and/or cabin camping opportunities. Year-round you can stop into or call the Chugach District Forest Service office located in Cordova on 2nd Street (907-424-7661).
Cordova's Chugach National Forest is truly a hiker's paradise, with sixteen trails covering 35 miles of hiking, all with spectacular Alaskan wildlife and scenery. The District is nestled between the Copper River Delta and the southeastern end of Prince William Sound and covers approximately 2.3 million acres. Beauty and adventure surrounds this magnificent place. Hiking through this temperate rain forest is a dream.  From easy going flat stream side trails, to towering forest and mountain peak adventures, Cordova's many trails share one important thing in common: the trail heads are each easily accessible via car from the Copper River Scenic Highway. Before you take off into the woods for a day of hiking check with either the Cordova Visitor Center or the USFS Cordova Ranger District for the most current trail conditions. Be sure to pack for the weather, let someone know where you are going and don't forget your camera. Vista's abound!
Backpacking on the Forest requires a little more forethought. You should pack carefully, planning for all eventualities, including the possibility of your trip being a little longer than anticipated. Always let someone else know where you are headed and when you plan to come back. Don't assume that the cabin you are headed to is vacant.  Always properly rent the cabin via the USFS site. Trail maps are available at the visitor center as well as the ranger district. Here are some of our favorite hikes around Cordova:
Ski Hill Trail
Perhaps one of the best hikes around Cordova begins right in town. From the Forest Service offices, you can follow signs up Council Ave. to the end of 6th street where you'll find the base of the ski hill. In the non-skiing months, this hike is a favorite for all ages. You cross muskeg meadows and spruce forest, berry bushes and fireweed blooms as you reach the Midway point. Don't forget to stop often and look back at the amazing views of Orca Inlet. When you reach the Midway, you can also gaze in the other direction at Eyak Lake and the Copper River Delta.
Sheridan Glacier Trail
Take a short – and gorgeous – drive out the Copper River Scenic Highway to the Sheridan Glacier Trail. This trail provides opportunities in all seasons to get up close and personal with a glacier. Feel the chill of a glacier pool and run your hands through pure glacier mud. If you pack a picnic you can eat your lunch along the edges of a glacial lake while taking in the expansive vistas of the moraine and listening to the sound of the cracking ice. Take the Copper River Highway to 13.7 mile, then follow Sheridan Glacier Road for 4.3 miles to the end.
Alaganik Slough Trails
Two easy walking trails begin at the picnic area at the end of Alaganik Slough Road. The boardwalk trail is ADA accessible and allows hikers to traverse the fragile wetlands and observe the beautiful blooming wildflowers in spring and summer. An adjacent meadow trail takes hikers through the wetlands back to the secluded waters of Alaganik Slough. Both trails offer interpretive signs from the US Forest Service. Fisherman find this a favorite spot to catch coho salmon in late summer and so do the bears. Take the Copper River Highway to 16.9 mile, and turn south on Alaganik Slough Road. Follow the road 2.9 miles to the trail head.
Crater Lake Trail
This trail climbs a steep grade passing through mature spruce-hemlock forest to a picturesque alpine bowl where Crater Lake sits. The first half climbs over rough, rocky sections with numerous switchbacks and muddy areas as well as wooden bridges. The second half continues to climb, but at a gentler grade, through hillsides that are abundant with wildflowers during the summer months. A bench is provided midway up the trail for a great view of Eyak Lake. At 1.2 miles and intertie provides access to Eyak Ski Hill Trial. At the lake the hiker has the option to access the Alice Smith Intertie or climb Mt. Eyak. The entire loop from Crater Lake trailhead to Power Creek trailhead is 12 miles (approximate time is 10-12 hours). Length: 2.4 miles Time: 4.5 hours round trip USGS Map: Cordova C-5 Access: Power Creek Road mile 1.5 Difficulty Level: More Difficult
Eyak River Trail
This trail follows the west bank of the Eyak River for one quarter mile through mature Sitka spruce forest before opening into rolling muskeg meadows. At mile 1.5 the trail reunites with Eyak River for the remainder of the distance before reaching Mountain Slough. At the end of the trail the flora composition changes to a typical delta habitat of dense alder and grasses. This is a popular access site for anglers during the coho salmon season from August to mid-September. The trail is muddy and wet in places, especially after heavy rain. Portions of this trail are "17(b)" easements. Length: 3.3 miles (5.3 km)
Time: 5 hours round trip
USGS Map: Cordova C-5
Access: Copper River Highway mile 5.7
Difficulty Level: Easy
Haystack Trail
This short, mostly boardwalk trail winds through spruce-hemlock forest to a knoll overlooking the Copper River Delta. From this spectacular vantage point, one may view the Gulf of Alaska, Kayak Island and many species of wildlife, especially trumpeter swans and moose. The trail has several places to rest and relax. Length: .8 miles
Time: 1.2 hours round trip
USGS Map: Cordova B-4
Access: Copper River Highway mile 19.2
Heney Ridge Trail
The first section of trail follows the contour of Hartney Bay and offers excellent bird watching and wildlife spotting opportunities. Spawning salmon may also be viewed from mid-July to August. The first mile of trail is a "17(b)" easement.* The next two miles moderately climb through spruce-hemlock forest and muskeg areas scattered with wildflowers. The last mile is a steep climb onto Heney Ridge following rock cairns above tree line. Once on the ridge you are treated to spectacular views of the Copper River Delta, the Prince William Sound, and Kayak Island (on clear days). There are many unique wood structures to assist hikers with traversing the varied terrain. The trail is muddy and wet in places, especially after heavy rain. Length: 3.7 miles Time: 5.5 miles round trip
USGS Map: Cordova B-5 & C-5
Access:
Difficulty Level: Intermediate to Difficult
McKinley Trail
This well maintained trail winds its way through mature spruce-hemlock forest and ends at the north end of McKinley Lake. Several bridges allow hikers easy crossing over small streams. This trail also provides access to two public use recreation cabins. McKinley Trail Cabin (100 yards beyond the trailhead sign) and McKinley Lake Cabin (at the end of the trail). A rough, unmaintained trail continues for 1/4 mile past the lake cabin accesses the remains of the Lucky Strike Mine. Interpretive signs guide the visitors through the history and remains of the abandoned mine and mining camp. Midway, Pipeline Lakes Trail joins McKinley Trail for an optional loop. Length: 2.4 miles (3.9 k)
Time: 3.6 hours round trip
USGS Map: Cordova (B-4)
Access:
Difficulty Level: Easy
Pipeline Trail
Most of this trail is boardwalk. The first 3/4 mile passes through dense spruce-hemlock forest before opening up into muskeg meadows that offer impressive views of the Chugach Mountains. Short spur trails provide fishing access to five small lakes with populations of cutthroat trout up to 12 inches in length. At the junction with the McKinley Lake trail there is an option of returning to the highway or continuing north to McKinley Lake cabin. Length: 1.8 miles (2.9 km)
Time: 2.7 hours round trip
USGS Map: CORDOVA (B-4)
Access #1: Copper River Highway mile 21.4
Access #2: Via McKinley Lake Trail
Difficulty Level: Easy
Power Creek Trail
This trail follows the river through Power Creek drainage, then leads the hiker up several switchbacks. Midway, at the beginning of Surprise Valley, the recently built Cordova Electric Hydropower Dam can be seen. The last half of the trail follows the creek up the Power Creek Basin, passing by several beaver ponds and hanging glaciers to the Power Creek Cabin**. The cabin site has wonderful panoramic views of the valley and surrounding mountains. At mile 3.0 the Alice Smith Intertie accesses the Crater Lake Trail. The entire loop from Power Creek trailhead to Crater Lake trailhead is 12 miles. Length: 4.2 miles (6.8 km)
Time: 6 hours round trip
USGS Map: Cordova C-5
Access: End of Power Creek Road mile 6.9
Difficulty Level: Moderate
Saddlebag Glacier Trail
This well-drained, level trail winds its way through stands of cottonwood and spruce trees, and guides the hiker through a small, glaciated valley to the outlet of Saddlebag Lake. Split log bridges at several small stream crossings aide the hiker during high water periods. From the lake outlet, Saddlebag Glacier can be viewed at the far end of the lake. Mountain goats can often be spotted on the cliffs on either side. The lake usually has icebergs near the outlet. Length: 3.1 miles (5 km)
Time: 4.5 hours round trip
USGS Map: CORDOVA B-4
Access: Via Copper River Highway to mile 24.6. Turn north
Difficulty Level: Easy
Please note: Due to a bridge washout, Child's Glacier and the Million Dollar Bridge, Cordova, are currently only accessible via private guided trip. Child's/Million Dollar Bridge are not accessible with your vehicle, RV or camper. Contact the Cordova Chamber of Commerce or US Forest Service for information on planning a trip to Child's Glacier and information on authorized guides.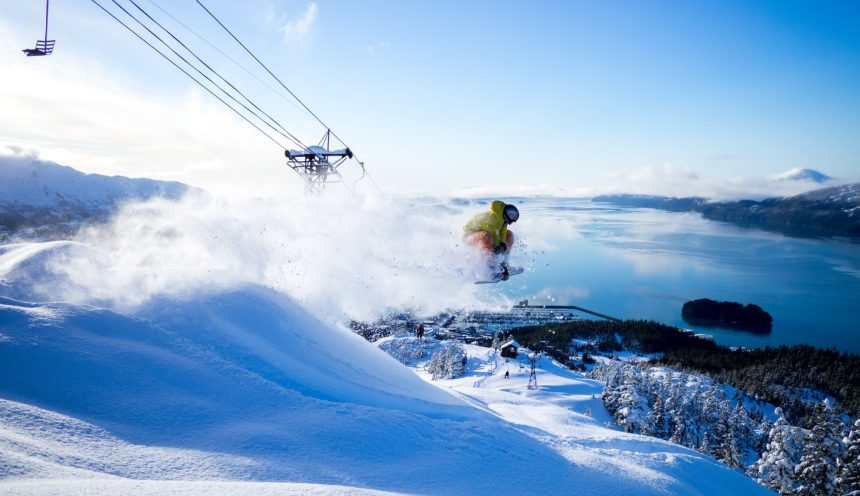 Mt. Eyak Ski Area
Mt. Eyak Ski Area is located in Cordova, Alaska and operates 1 of 2 remaining single chairlifts in North America. This historic lift was first installed in 1936 at Sun Valley, Idaho on Mt. Baldy's Christmas Ridge. In 1974 this lift was moved to Cordova, Alaska and installed above town on the southern slopes of Mt. Eyak. With a vertical rise of 960 feet the lift serves 3 main runs with countless shots through trees and glades encompassing an area of over 600+ acres. The lift also accesses backcountry on the upper slopes of Mt. Eyak. A rope tow serves a beginner slope with a length of 300' and a vertical rise of 50'. Mt. Eyak has a full service rental shop and food service is available. Mt. Eyak operates from November to April on weekends, holidays & and powder days (snow permitting).
Walking Tour – The Cordova Historical Society has put together a nice printed map and walking tour.  Get your copy at the Cordova Visitors Center.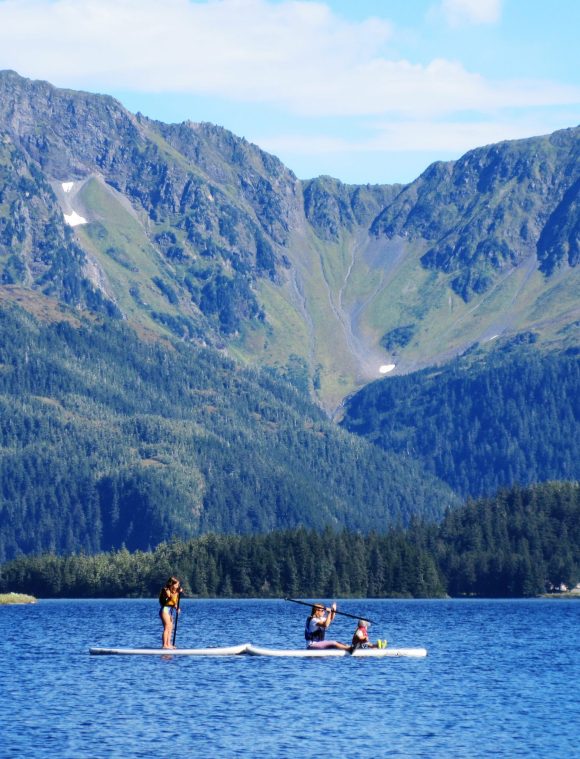 The waters of Prince William Sound include the Sound and the lakes and rivers that traverse the Chugach National Forest. These waters offer virtually unlimited opportunities for fishing, fun and exploration.
Kayaking, Rafting and Flightseeing
There's no better way to relax than exploring nature up close. Prince William Sound and its surrounding rivers and lakes offer wonderful opportunities for kayaking, river rafting and flight seeing with experienced and knowledgable guides.  
View wildlife up close, gain extraordinary opportunities to see local landmarks and practice your photography skills. The scenery is so spectacular that even the simplest point and shoot photographer will come home with photos of a lifetime.
Tidepooling
Not all watery adventures demand boats or fishing gear. Sometimes all you need is a tide table and a good pair of boots. Tidepooling along the shorelines is one of the easiest ways to get a close look at the abundant life in Prince William Sound. You'll find sea vegetables, sea stars, shellfish, salmon and often, the animals that consume them  are nearby: eagles, sea otters, seals, bears and other wildlife.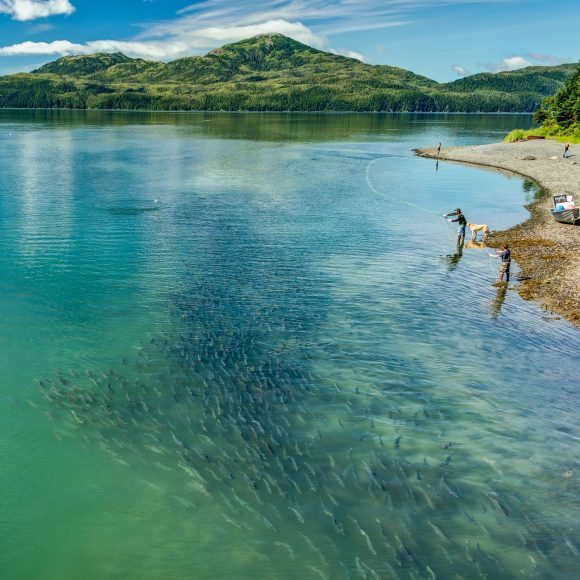 Sport Fishing
Whether fresh or salt water is your preference, you'll find abundant sport fishing opportunities in and around Prince William Sound. From those quiet secluded streams to deep sea action, there's enough to tempt every kind of angler. When planning a fishing trip, make your first stop the website for Alaska Department of Fish and Game. You'll find helpful seasonal information and up to date reports on what's running where, as well as the all important basics on licensing and regulations. Licenses can easily be purchased at loges and local stores. You can also buy and print licenses online. Eyak River has a special fly-fishing area above the bridge at the outlet of Eyak Lake, which runs from 200 yards below the weir. This sanctuary area for returning salmon is open to fishing with an artificial single-hook fly, with a gap between the point and shank of 3/8 inches of less. No additional weight may be attached to the line. Make sure you consult the current regulation book for waters you intend to fish, as the regulations will contain up-to-date sport fishing laws and legal limits and be sure to purchase you resident or non-resident fishing license. Regulation books and licenses are available at most Cordova sporting shops, the Alaska Department of Fish and Game office and at local grocery stores. And – don't forget the bug  and bear spray. Sportfishing season in Cordova tends to fill up lodgings very quickly, so make sure to plan your trip well in advance. Visit our LODGING (link) page to start checking availability now. Bathrooms, fish cleaning stations and trash cans are available – please help to keep these wild places safe and clean by using the designated facilities.
Ready to get started?
Click one of the links below to begin your outdoor adventure!