Why Membership Matters
There are many benefits to Chamber membership including business support, credibility, promotion, networking, skill-building, advocacy, and knowing that you are supporting the community that you and your employees enjoy living and working in. Details on some of our most popular membership benefits are listed on this page. To learn more about joining the Cordova Chamber of Commerce as a member, click the button below.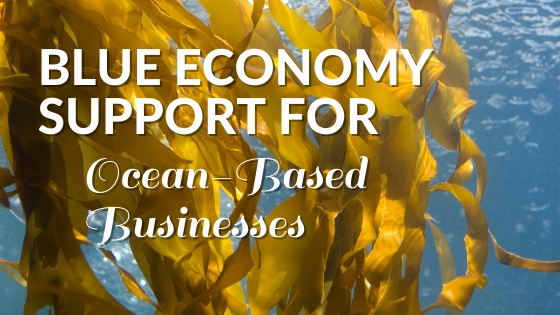 We are broadening our support for maricuture, seafood harvesting, and ocean-based businesses with a new suite of "Blue Economy" programs, which are free to Chamber members. Some of these expanded offerings include collaborative content creation sessions, dockside sales support, restaurant/retail/harvester sample sessions, customer acquisition support, and business & social-media training. For more information and to learn more about collaborating with other local ocean-based businesses, contact Cathy and Karen at 907-424-7260 or click the button below to email us. Click here to read about our recent Beach Meet & Greet event to connect local ocean-based business owners.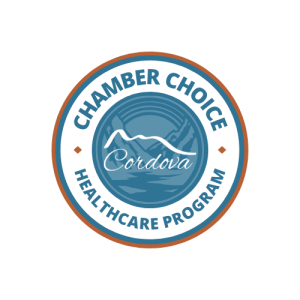 Affordable Healthcare for You & Your Employees!
Cordova Chamber of Commerce is partnering with the Small Association Leadership Alliance (SALA) to offer Cordova Chamber members access to SALA's healthcare alternative solution. The Chamber Choice Healthcare program is a creative and proven insurance alternative that provides a customized, comprehensive, and affordable option for healthcare.
The program includes multiple components that offer options for preventative care, prescription drugs, telemedicine, and cost-sharing for larger, unforeseen medical expenses. Chamber member businesses now have the flexibility to customize their healthcare offerings while providing an affordable solution.
This benefit is only available to current Cordova Chamber of Commerce members and their employees. Join Cordova Chamber today, request access to the webinar, or click the button below to learn more and apply today.
Not already a Cordova Chamber member? Contact us today!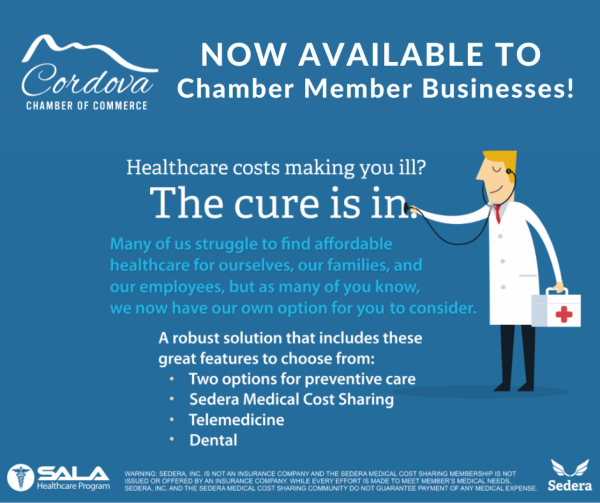 Free Business Webinars
As a member of Cordova Chamber of Commerce, you have access to many free webinars through Alaska Small Business Development Center to help you build and grow your business skills and reach your goals. Click the link below to view a full list!
Member Benefit Checklist
Your Chamber membership is packed full of benefits to support your success. To ensure you are receiving ALL of your Chamber benefits in 2022, we've created a Membership Benefits Checklist for each membership level. Read through it, download it, and incorporate it into your goal planning for 2022.
There are benefits that ALL members receive and there are level specific benefits depending on your membership level as King, Wild Red, Silver, or Chum. 
Corporate Membership
New! This year the Chamber has added new corporate membership levels. This membership is for all companies with more than 100 employees. There is a Bronze, Gold, and Copper level that all receive all the benefits of a King membership and different sizes of an All Event Sponsor all rolled into one membership. Any company of any size can take advantage of this opportunity as it gives your business the most publicity of the memberships.
Corporate members download the King Membership checklist to take advantage of all their benefits. All additional benefits that come with this membership are handled by Chamber staff.
*Chamber staff do all they can to ensure equity and inclusion for all members. It is up to you (the business member) to familiarize yourself with and take advantage of as many opportunities as interest you. If you have questions or would like help making sure you are taking full advantage of all benefits available to you, please reach out to Karen or Cathy.
Code of Ethics
When you join the Cordova Chamber you agree to abide by the Chamber Code of Ethics. The Code of Ethics state how the Chamber and the members will conduct themselves in doing business. If you'd like to refresh your memory of the Code of Ethics you've agreed to click the link below.
Sponsorship
Sponsoring the Cordova Chamber's signature events is a great way to support a broad cross-section of the community in a very positive way with excellent impact and exposure.