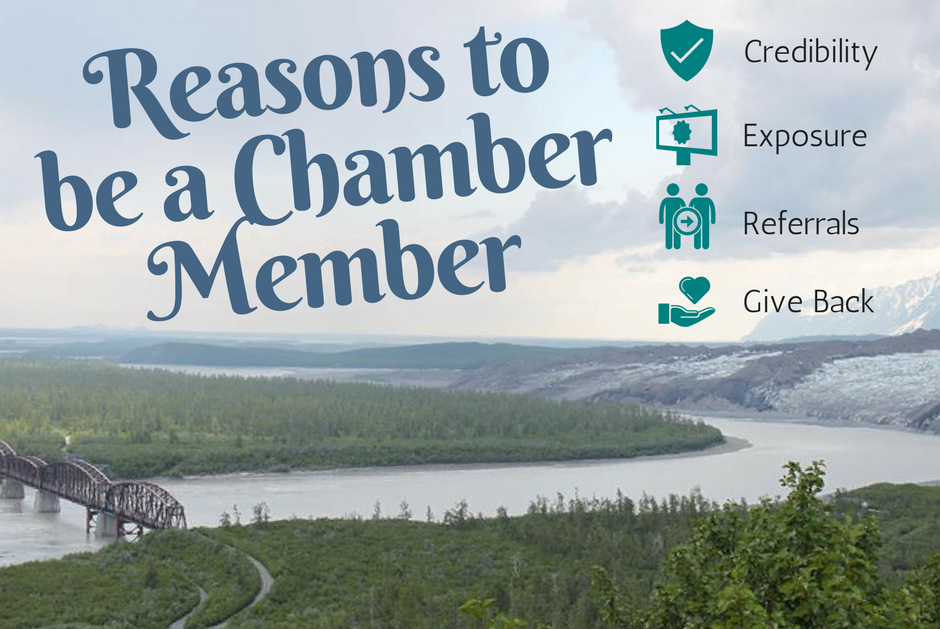 Why should you join the Chamber?
Business Referrals

We are often the first contact for visitors planning a trip to Cordova or their first stop upon arriving in town. We also get hundreds of online searches and calls each year from individuals checking to see if a business is a chamber member or looking for a business to fill their needs.  We refer only chamber members.

Publicity & Exposure

Chamber members receive measurable exposure through their listing on our credible and high-traffic website as well as through Chamber-generated emails, e-newsletters, print materials, social media, and cooperative advertising. We also offer Milestone Event support for Grand Opening, Re-Opening, Ribbon-Cutting, Anniversary, and Launch events to our members!

Healthcare Coverage

Cordova Chamber Members and their employees are now eligible for SALA healthcare coverage. This progressive alternative to healthcare insurance is a popular and low-cost option for employers to offer competitive benefits to employees and and good option for entrepreneurs to get coverage for themselves. Click here to learn more.

Business Support

Are you looking to learn news skills to enhance your business and/or collaborate with other local businesses to grow your offerings and customer base? We offer access to skill-building, facilitated collaboration sessions, and networking events to help you grow and scale with less pain and more control.

Credibility

Did you know 69% of consumers believe that chamber membership is a sign of a reputable, stable business? 70% believe that it demonstrates that you use good business practices. Being a member of the chamber gives your business real credibility.

Community

Joining the Chamber means joining a community of business owners. Membership in the Chamber is also an investment in your business future as well as our community's future. As a chamber member, you will help sustain and improve the quality of life that you, your family, and your employees enjoy. Experience the rewards of leveraging your resources and working with other local business leaders to help make the community where you live and work a better place. Click here to learn more about getting involved.
Your membership dues may be tax-deductible! Check with your tax preparer.
A few more benefits of Chamber membership:
•    Build partnerships within your local business community at member-only networking & business training events.
•    Place your printed materials in front of interested customers at our Visitor Center and via mail when we refer you.
•    Gain frontline contact with new members of the community by way of our Newcomers Welcome Events & Materials.
•    Piggy-back on the web traffic of the highest-ranking website for information about Cordova.
•    Receive business advocacy at City Hall, the Courthouse, and our State Capitol.
•    Connect with your elected officials at both the city and state levels through Chamber-sponsored Legislative Visits & Candidate Forums.
•    Promote your business in our "Shop Cordova First" campaign.
•    Access low-cost targeted advertising through our website and cooperative print advertising.
Step 1
Choose Membership
Find the right Membership to fit your business by clicking the button above.
Step 2
Sponsor Events
If you're interested in additional promotion, you may also want to consider becoming a Chamber Sponsor.
Step 3
Fill Out the Application
Then click HERE to email it back to us, or print and mail it to us at the address below, or drop it off at our office.
Step 4
Process Your Payment
PAY VIA CHECK OR CASH
You may mail in your payment to PO Box 99 Cordova, AK 99574 or drop it off to our office at 404 First Street in Cordova.
Step 5
Membership Benefits
There are benefits that ALL members receive and there are level specific benefits depending on your membership level as King, Wild Red, Silver, or Chum.
Click the link above to download your benefit checklist.
Step 6
Enjoy being a Member!
Thank You
It's a pleasure to work with each of our members. When you join the Cordova Chamber, you agree to our Code of Ethics
Click the button to read our code of ethics.
JOIN OR RENEW NOW!
We are continuing to offer a COVID-19 Hardship Discount to make 2022 just a little bit easier. If it will help your business weather this storm, we'd like to offer you 30% off your 2022 membership to Cordova Chamber of Commerce. No strings attached. All you need to do is check a box on your annual membership application.
Multi-Business Discount: The Cordova Chamber alos offers a 20% discount on membership for all second and subsequent businesses (equal or lesser value) purchased by a single party.