Business Relief Resources
SBA Relief Options
Friday, Sept 17, 2021 Applications will be accepted.
The Alaska State Legislature appropriated $90 million from the State's American Rescue Plan Act (ARPA) Covid State and Local Fiscal Recovery Funds (CSLFRF) toward a tourism and business relief grant program to be administered by the Department of Commerce, Community, and Economic Development (DCCED).
Applications will be grouped into three tiers based on an applicant business' GAR in 2019:
Tier One: Businesses with 2019 GAR between $10,000 and $2.5 million.
Tier Two: Businesses with 2019 GAR between $2.51 million and $10 million.
Tier Three: Businesses with 2019 GAR between $10.01 million and $50 million.
To be eligible, businesses must have filed their 2019 and 2020 taxes and must have held an active State Business License as of January 1, 2021 unless exempt under AS 43.70.105 (in which case the business will need to provide proof of the requirement licensure under that exemption, as applicable). Businesses must be able to demonstrate a 50% or greater loss in net income.
The seafood processing, mining, and oil and gas industries were required to make significant investments in order to comply with the State of Alaska's COVID-19 mitigation policies and continue to operate. Recognizing the unique costs incurred by these industries in order to continue Alaska operations during 2020, companies operating in these three sectors are exempted from the gross revenue cap and may apply for an individual facility and provide audited financials of that facility rather than an IRS schedule in order to qualify.
APPLY AND READ MORE ABOUT THE ALASKA ARPA BUSINESS RELIEF PROGRAM IN LINK BELOW.
PPP Forgiveness
"The SBA's new streamlined application portal will simplify forgiveness for millions of our smallest businesses — including many sole proprietors — who used funds from our Paycheck Protection Program loans to survive the pandemic," said Administrator Isabel Casillas Guzman.
Coronavirus Non-Profit Relief Fund
The State of Alaska set aside $35 million from the Coronavirus Aid, Relief, and Economic Security (CARES) Act funding to specifically support nonprofits in Alaska adversely affected by the COVID-19 pandemic. The State of Alaska Department of Health and Social Services (DHSS) has partnered with The Alaska Community Foundation to establish the Coronavirus Nonprofit Relief Fund (CNRF) with the set-aside funding. Applications are now closed for this program.
If you have questions about the status of your application, you can contact the Alaska Community Foundation. For other help, you may contact the Foraker Group at info@forakergroup.org, or call 907-743-1200. They have services that can help you including assistance with grant writing.
State of AK: COVID-Conscious Business Tools
The State of Alaska has recently added a page to their COVID-19 website filled with tools and guidance to help businesses operate in a COVID-Conscious manner. Click the button below to review all their materials including Business Reopening Toolkits, FAQ, and media that you can download and use.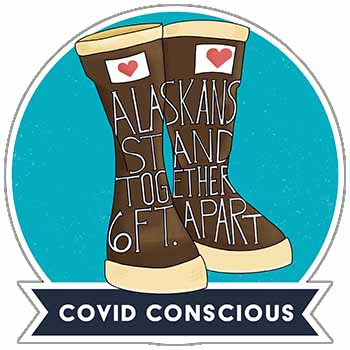 More COVID-19 Resources
We were heartened to hear of these resources at the State and National level aimed at helping small businesses during this trying time. We will share more details with you as they become available.
Alaska Chamber COVID-19 Business Tool-kit
Ongoing Ways to Protect You & Your Business
For your customers: Make your place of business as hygienic as possible and communicate what you are doing to customers so they feel comfortable visiting. Put out hand sanitizer and disinfect surfaces and common areas regularly. Consider offering or promoting existing distance options like drop-boxes and telephone or online support.
For your business: Prepare for negative economic impacts.
– Staffing: Develop staffing plans for varying levels of customers and revenue (what does an 80% scenario plan look like?).
– Insurance: Check with your insurance provider to understand your coverage and options.
– Capital: Create, confirm, or expand your line of credit.
For your employees: Check, modify, and communicate HR policies regarding remote working, sick-leave, and compensation during health crises. Try to ensure your policies are as flexible and non-punitive as possible. Sick employees should be encouraged to STAY HOME.
For your workflow: Cross-train employees for key functions so that daily schedules can continue relatively uninterrupted by potential employee absences. Where relevant, consider staggering start and end times to reduce large numbers of people coming together at the same time; and create and test remote employee collaboration systems (consider apps such as Slack and Zoom). Consider offering telecommuting or work-from-home options for your employees. Local telecommunications providers may be able to help you.
For your cashflow: Communicate with your landlord (or tenants) and lenders about expectations and request flexibility (better to have that conversation now).
For yourself: Eat well, sleep, and exercise. Taking care of yourself in this time of stress will improve your resistance to infection and resilience in managing difficult business situations. And of course, wash your hands all the dang time and don't touch your face, or anyone else, for that matter.
For your Fellow Business Owners: Local businesses can be of great help to us at times like this. Restaurants and other eateries offer hot, nourishing meals and many have take-out options. Libraries and retailers are great sources for books, movies and games to pass the time. Banks can assist with special loan funds. Stores selling food, medical supplies and other necessities are nearby and easily accessible. If you want to support a local business, but maybe belong to an at-risk part of the population, you can purchase a gift certificate now to be used later or ask a friend of family member to pick things up for you. Steps like that will enable local businesses to keep paying their staff – your friends and family members – and keep businesses viable in our community.
For your Chamber: For us to best serve you, we need to know and share what our members are doing to manage risks. To that end, please tell us what's working and what you need from us! There may also be federal loans or grants available to small businesses or private, non-profit organizations that suffer substantial economic injury as a result of the declared disaster, so please let us know if you document any substantial losses to your business.