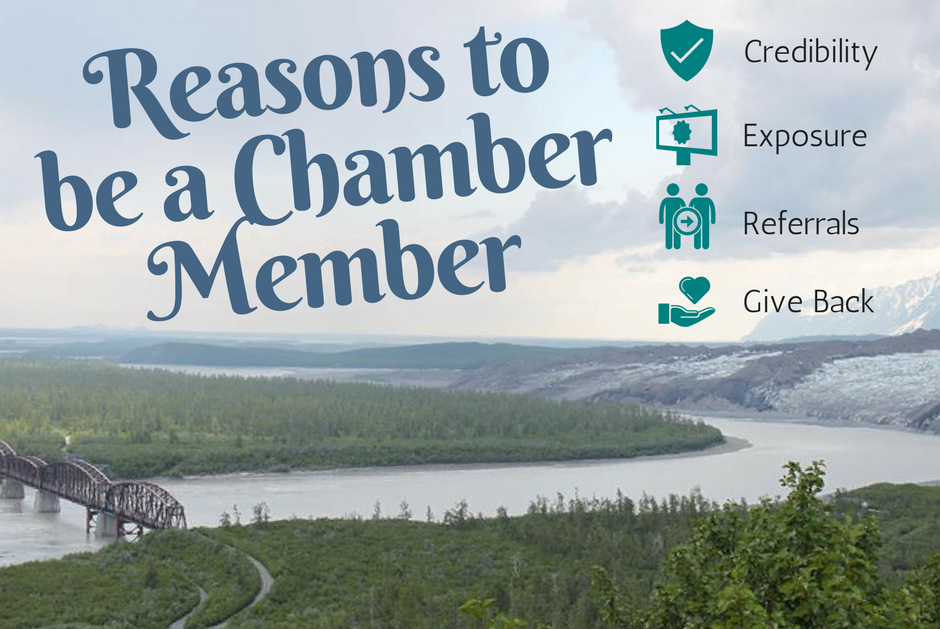 Why should you join the Chamber?
Credibility

Did you know 69% of consumers believe that chamber membership is a sign of a reputable, stable business, and 70% believe that it demonstrates that you use good business practices?  Being a member of the chamber gives your business credibility.

Publicity & Exposure

Chamber members receive real exposure through our website – businesss directory, hyperlinks and display ads; directory; social media and cooperative advertising.

Signature Events Sponsorship

You can highlight your business by sponsoring signature events that are open to the entire community: Cordova Cleanup Day, Copper River Delta Shorebird Festival, the Old Time 4th of July Celebration, Cordova Fungus Festival, and the Annual Christmas Tree Lighting and Christmas Kickoff all provide excellent exposure for your name and logo. You can even become an All-event sponsor (click here for more info).

Business Referral Services

We get hundreds of on-line searches and calls each year from individuals checking to see if a business is a chamber member or asking that we refer a business to fill their needs.  We refer only chamber members.  We are often the first contact with visitors planning a trip to Cordova or their first stop upon arriving to town.

Community

Membership in the Chamber is an investment in your business future as well as our community's future.  Experience the rewards of volunteering your time and talent to help make the community where you live and work a better place.  As a chamber member you will help sustain and improve the quality of life that you, your family and your employees enjoy.
Please contact Cathy Renfeldt, Cordova Chamber of Commerce at 907-424-7260.
Your membership dues may be tax deductable – check with your tax preparer.
A few more benefits of Chamber membership:
•    Contributing to the stability of your local chamber of commerce and actively participating in your local business community.
•    Front line contact with new members of the community by way of our Newcomers Welcome Events.
•    Front line contact with visitors to Cordova by way of website listings, display ads and chamber referrals.
•    Sponsorship and advertising opportunities for community events.
•    Business advocacy at City Hall, the Courthouse, and our State Capitol.
•    Close contact with elected officials at both the city and state levels through legislative visits sponsored by the Chamber as well as Candidate forums during local elections.
•    Inclusion in our "Shop Cordova First" campaign.
•    Low cost targeted advertising on our new web site.
Step 1: Click the JOIN OR RENEW NOW 
button below and fill out a membership application.
Step 2: We will send you an invoice to pay online or CLICK HERE to request an invoice.
75% Off Membership Super Sale!
Our Membership Super Sale is available for a limited time. Read this list and see if you're eligible!
Are you a new member?

That means you're brand new to the Chamber and have never been a member with this business before.

Are you choosing a Silver Level Membership or higher?

Silver Member discounted price is $25.00 (normally $100)
Wild Red Member discounted price is $45.00 (normally $175)
King Member discounted price is $75.00 (normally $300)

Have you filled out & turned in the Auto-Renew form?
We ask that our Members follow our Chamber Code of Ethics.
By joining the Chamber, you agree to:
Maintain the highest standards of business conduct by using only legal and ethical means in all business activity guided by truth, accuracy, honesty, fairness and integrity.
Conduct all business dealings in a civil, courteous and professional manner and not engage in any act or omission of a dishonest, deceitful or fraudulent nature in the conduct of business activities.
Abide by all applicable federal, state and local laws and maintain all necessary insurance, licenses and permits.
Be truthful in all advertising and informative materials (print, electronic media, television, radio or otherwise) and ensure such materials do not contain false, misleading or incomplete information.
Be current on all financial and operational matters in order to competently deliver a quality visitor experience and maintain a high-level of customer service.
Strive to be good stewards of Cordova's environment, cultural heritage and unique quality of life.
Represent Cordova, Alaska tourism and the Cordova Chamber of Commerce to visitors, businesses and other stakeholders to aid in the advancement of the visitor industry and to grow the awareness of the economic impact of tourism within the community.
Be fair and respectful to employer(s), employees, associates, competitors, visitors, the public, and all business or professional relationships.
Cordova Chamber of Commerce members should raise and maintain these levels of professional conduct. Joining the Cordova Chamber of Commerce represents a member's agreement to these Guiding Principles of professionalism and integrity. It is the responsibility of all members of Cordova Chamber of Commerce to report any suspected violations of the code of ethics to Cordova Chamber of Commerce.